01 Jul 2020
Just Press Record - How to produce videos for your patients and business
If you fall into this category of camera-shy or 'video camera terrified' then you're in a fairly well populated group of entirely normal people. So that's it, I could end here, and you could go about your business without ever pressing record or ever considering pressing 'go live'.
The truth is you seriously need to consider producing some video content at this time for two key reasons; firstly, people like to learn and receive information in video format. Look at the success of YouTube which only started in 2005 and now offers people jobs which didn't previously exist. YouTube is an excellent platform for therapists to host videos and build a community which serves as a library of content you can pushout over more snappy and transient platforms like twitter and Instagram.
The second reason is that we have recently been forced to communicate with our patients through video conferencing apps and video media has become the new normal. Personally, I really miss the real live human interaction and yearn for some manual therapy.
After identifying the need to create some video content you then need some strategies to get better at speaking to the camera. As this is a fairly recent journey for me, I can still remember the old 'rabbit in the headlights' days of camera phobia.
Strategies for speaking to camera more naturally
Switch the camera off: Set up your camera (which is probably also your phone) so it's ready to film you. Then practice some short monologs or exercise demonstrations. Doing this while the camera is off seems to reduce the pressure a little and is something I still do to get my brain in gear and to check that I am not going to move out of shot when I try to show an exercise. This strategy will also help you get used to speaking to your camera without actually recording it.
Who is your camera?: In the early days I used to struggle with relaxing on camera. I would never smile (because there is no one in front of you to smile at) and often do a great death stare at the camera – terrifying! My early strategy was to put a picture of someone on the camera so I could talk to them instead. So, when it came to choosing my camera picture I thought very hard about the person in my life who could offer that balance of personal support and deep emotional connection. The next day Claudia Schiffer joined our film crew. Mrs Schiffer was promptly forced to resign by my manager (Wife). So even if you don't get your Claudia, or Brad Pitt in your studio you can just imagine them, this should hopefully lighten your presence on camera, stop the death stare and may even make you smile J
Now days I just imagine I am speaking to my patients or students; with practice this has become natural and more normal.
Film with someone: I made the most progress when I worked with my Physio Channel team, Richard, Rosie and Becky. When you film with others it has so many advantages including feeling more natural, more energised and having extra brains to spot mistakes and come up with ideas. However, you need to film with the right people. Having someone who is not interested or unskilled with a camera can make things more difficult for you. Filming well is a skill and requires a lot of attention.
Practice: This one is the most obvious which is why I saved it for last. Be prepared to feel awkward, be prepared to delete more video than you save, be prepared to fail. Then be ready to become more natural on camera, get ready to make some great videos for your patients and be prepared to produce some great content.
Now just press record.
Good luck.
Daniel
Most of Daniel's videos can be found on two YouTube channels: RockTapeUK and The Physio Channel. Daniel has also produced online courses including Exercise for Pain Relief and Tendinopathy which can be access via the RockTape UK website.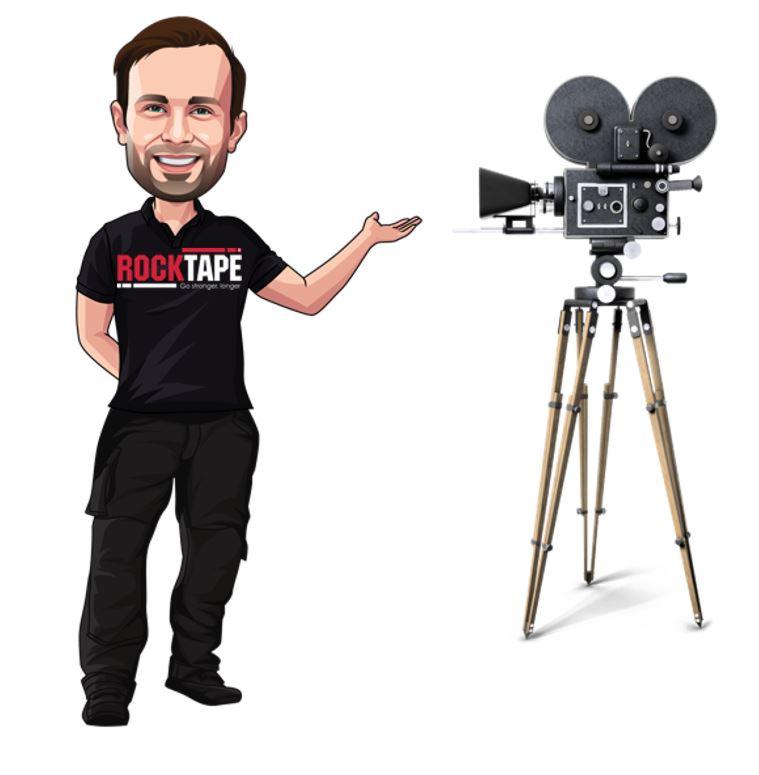 Daniel joins us every Tuesday at 8pm on Instagram @Therapy_expo
Follow him on Instagram, YouTube, Facebook: @ThePhysioChannel