08 Nov 2023
Cetra. Patient Education. Reimagined.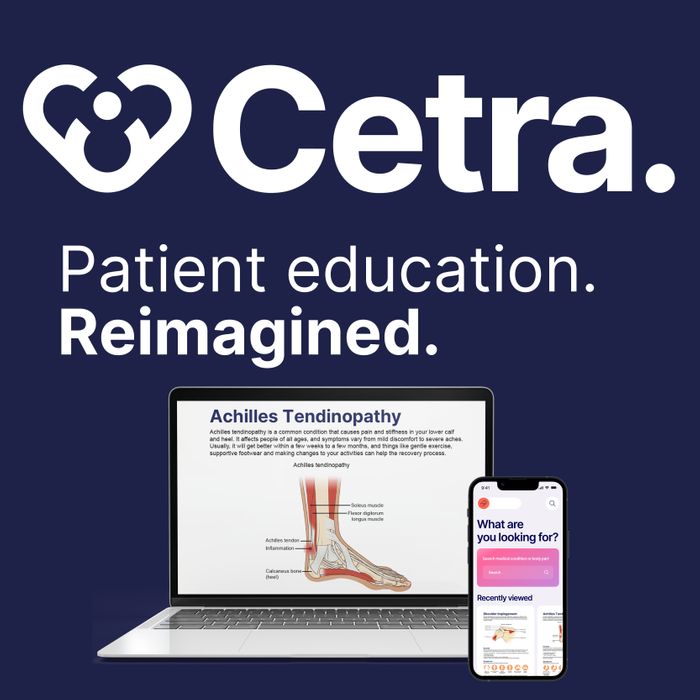 Cetra. Patient Education. Reimagined.
As the UK's leading medical education supplier, our team at AnatomyStuff are proud to announce the release of our new software – Cetra. Cetra will officially launch at the Therapy Expo taking place from November 22 to 23, 2023, at the NEC in Birmingham. With over 25 years of experience serving the NHS, universities, and healthcare professionals, we are continuing our commitment to revolutionising medical education.
In response to the evolving needs of our customers, we initiated a comprehensive dialogue to better understand the challenges and demands of physiotherapists. The unanimous message was clear: healthcare professionals require improved and easily accessible patient education resources available within a single, convenient location.
We are enthusiastic about embracing this opportunity through the launch of Cetra, an innovative patient education solution created by medical experts and musculoskeletal (MSK) professionals.
Cetra is a user-friendly software that contains a vast library of evidence-based, peer- reviewed patient handouts, all of which have been carefully designed to simplify complex medical information in an easily comprehensible and concise format. Each handout features medical illustrations and clear explanations covering the causes, symptoms, diagnoses, recommended treatment options, and outlooks for a wide range of conditions.
Sharing these resources with patients has never been simpler – they can be printed for in person consultations or sent digitally via email, SMS, or WhatsApp, allowing for personalised care and ease of access.
To learn more about Cetra and our innovative patient education solution, visit our website: www.cetraphysio.com
We look forward introducing you to Cetra, and together, equipping our patients to better understand, manage and own their health journeys. Join us in our mission to enhance patient education and consider signing up to become one of our beta testers and content contributors.
For inquiries and further information, please contact us at: hello@cetrahealth.com