07 Nov 2023
Innovative new wellbeing technology looking for support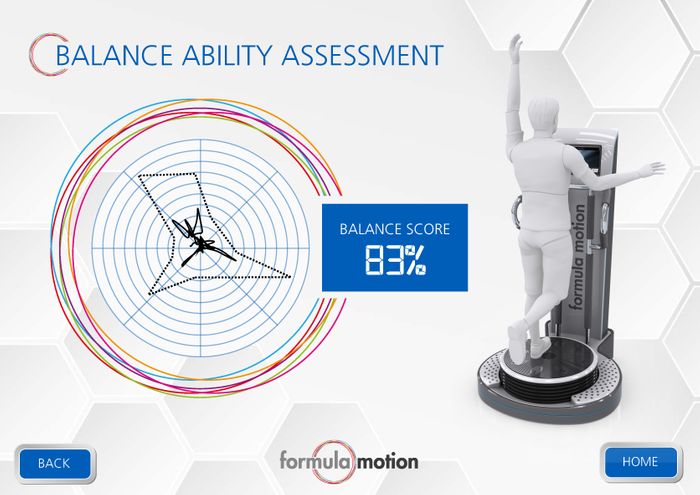 Innovative new wellbeing technology to address falls screening in the elderly looking for support
Innovative new wellbeing technology looking for support
An opportunity is now available to help save and improve thousands of lives a year by supporting a new wellbeing technology.
Formula Motion is a fully dynamic machine that could be crucial in falls prevention screening, physical rehabilitation or general fitness. The team behind the technology are now looking for someone to help bring it to market.
Formula Motion offers a unique set of movement types. The device's platform can raise, lower and tilt in all directions, and combine these movements. Formula Motion can move the user and users can also move Formula Motion, allowing it to be used for strength and balance training. Targeted exercises can improve neural pathways and muscle function, leading to improved balance and mobility – particularly crucial as people age, especially after injuries or strokes.
The device's analytical technology means it can also be used for falls prevention screening – potentially saving the health sector millions, and making a massive difference to thousands of lives.
Falls and their associated injuries are one of the biggest concerns among many older people. They are estimated to cost the NHS more than £2.3 billion each year. Strength and balance training are an effective way to reduce falls. Formula Motion could not only assess a user's risk of falls, but also be a rehabilitation tool to reduce that risk.
The technology is patented by Tim Henson, a developer with a history of successful healthcare and accessibility products behind him. The machine already has a working prototype.
Tim says: "We're currently exploring ways to take this technology to market. It could be licensing or selling the technology to a partner, or taking it to market ourselves with investors."
The machine has a variety of exciting potential applications, including:
Falls prevention screening
Stroke or other neurological rehabilitation
Physiotherapy or other physical rehabilitation
Supporting vestibular conditions
Elite athlete performance training
General usage in gyms, health clubs and care homes.
Tim says: "Falls are the unknown pandemic. When you think about the number of falls and the deaths that result from them, it's an enormous worldwide problem. Our vision is that every person aged 65 and over could be screened to determine their risk of falling and then be rehabilitated to reduce their risk."
The device's benefits have been confirmed by health professionals, including experts in geriatric care and stroke specialists.
Members of the team, including Tim Henson, will be available at the Therapy Expo at the NEC in Birmingham on 22nd and 23rd November to demonstrate Formula Motion. People are invited to meet them at stand TA23.
For further information, please contact:
Tim Henson, Inventor, Founder and CEO
tim@timhenson.com
0121 353 1511 // 07768 551070
www.formulamotion.com