Keiser UK introduces Pneumatic Resistance to Circle Health Group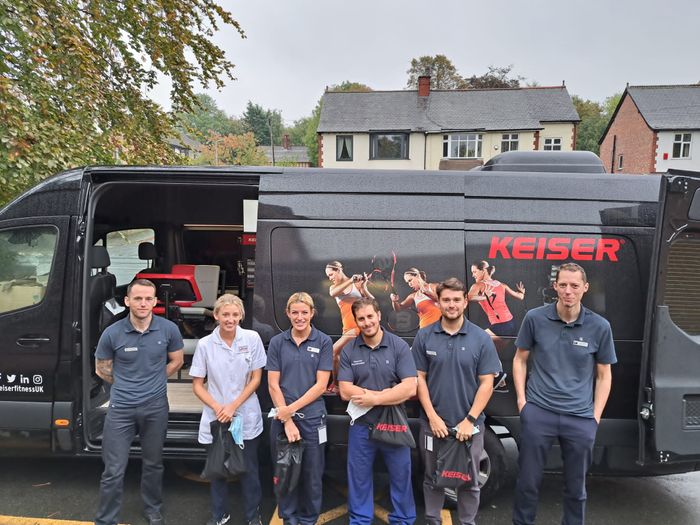 Simon Roberts, Lead Physio for the brand-new Circle Health rehabilitation centre in Birmingham, was recently joined by Keiser UK Consultant Physio, Manoj Patel, to discuss and demonstrate the benefits of utilising pneumatic resistance within patient treatment to Circle Health's MSK and Neuro rehab teams.
Participants were excited to be taking advantage of the opportunity to lead the way in improving exercise prescription, and how this can be modified based on the wide demographic of patients and conditions that the Circle Health team treat.
The physio teams were firstly given an in-service training by Manoj on the benefits of strength and conditioning in clinical practice and then introduced to the science and technology of pneumatics and how this provides a significantly safer and more measurable way to assess and prescribe exercises.
The day concluded with the whole team getting the opportunity to experience pneumatic resistance for themselves and testing out the equipment within the Keiser UK mobile showroom- a fantastic chance to experience how pneumatics feel on joints, muscles, and the body.
Commenting on the day, Simon Roberts said: "'Many thanks to Manoj for providing an excellent training on strength and conditioning concepts in physiotherapy. This has allowed our team to further understand these concepts and will aid in the prescription of clinically reasoned advanced rehabilitation. Additionally, demonstration of Keiser's pneumatics technology has opened our eyes to future development possibilities for Circle Rehabilitation Birmingham.
Manoj Patel added: "It has been a brilliant day with the Circle Health team today- it is always a joy to witness the "Keiser lightbulb moment"- when people feel the difference that pneumatic resistance makes for themselves. I look forward to continuing to work with the Circle Health Team to elevate their rehabilitation offering.
-ENDS-
For further information please contact:
Hannah Lewin: +44 (0) 7878 4891173
Hannah.lewin@keiseruk.com
Notes to Editors
About Keiser UK
For over 40 years, Keiser has been changing the way people exercise, helping to elevate individual performance and quality of life. In 1978 Keiser introduced to the world to a truly pioneering way of training, with the first air powered variable resistance exercise machines for building strength and power. Keiser has continued to be an innovative force within the fitness industry ever since.