15 Nov 2023
PhysioPod® UK to Showcase DEEP OSCILLATION® Therapy at Therapy Expo 2023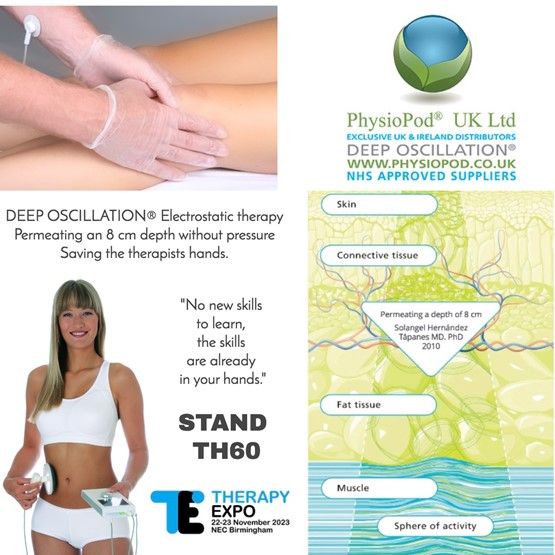 PhysioPod®, a leading provider of innovative physiotherapy equipment, is excited to announce their participation and demonstration of Deep Oscillation Therapy at the upcoming Therapy Expo 2023. The event will take place from 22nd to 23rd November at the NEC in Birmingham. PhysioPod's presence at the expo will offer attendees a unique opportunity to explore the benefits of this ground-breaking therapy and learn how it can enhance patient care.
Deep Oscillation Therapy is a patented treatment method that utilises an electrostatic field to create gentle and deep oscillations within tissues to a depth of 8cm, permeating the entire tissue layers: skin, subcutaneous fat, muscles, blood, and lymph vessels, with a direct effect on the drainage of the connective tissue. This non-invasive and relaxing therapy significantly reduces pain, oedema, fibrosis, and scar tissue. Applicable immediately after injury and for pre- and post-surgery and liposuction, it can reduce downtime. In a nutshell, deep oscillation supports the body's natural healing processes whilst protecting the therapists' hands from wear and tear. It has been widely used in the fields of physiotherapy, sports rehabilitation, aesthetic medicine, and wellness. Deep oscillation is delivered via the gloved hands of the therapist or via special applicators or special foil around open wounds or burns. The special applicators also enable self-treatment.
Cary Roberts, Physiotherapist at Swan Physio wrote:
"Having worked integrating Deep Oscillation Therapy into my clinic for nearly a decade... I'm not sure where I ever was without it! It allows me to get into tissues you cannot touch when in acute pain... or even dream of reaching with conventional massage. We have integrated it into all aspects of our clinic... sports... post-operative rehabilitation... Neurological treatments... with all ages, sizes and activity levels. We also treat a lot of patients whereby being able to set them up with a machine they can use themselves allows them to have privacy in treating areas they (and we) would prefer to do themselves... particularly groins and post-operative breast cancer reconstruction. The after sales support from PhysioPod/ Physio Equipment is second to none. I'm so glad I met the Sisters at the AACP conference all those years ago!"
PhysioPod's participation at Therapy Expo 2023 will mark a significant milestone in their mission to provide effective, evidence-based therapies that improve patient outcomes. Visitors to their stand will have the opportunity to experience deep oscillation therapy first-hand with Julie Soroczyn. This will allow attendees to witness the benefits of this unique therapy and learn how it can be integrated into their own treatment protocols.
"We are thrilled to be showcasing deep oscillation therapy at Therapy Expo 2023," said Julie Soroczyn, Managing Director at PhysioPod. "We believe this therapy has the potential to revolutionise the way practitioners approach patient care. By reducing pain, promoting healing, and enhancing lymphatic drainage, deep oscillation therapy offers a safe and effective treatment option for a wide range of conditions. We are excited to share this innovation with the therapy community and look forward to engaging with professionals who are passionate about improving patient outcomes."
PhysioPod's stand at Therapy Expo 2023 (TH60) will also provide links to informational materials and resources to further educate attendees on the theory, research, and clinical applications of deep oscillation therapy. The PhysioPod team will be available to answer questions, provide insights, and offer guidance on integrating this therapy into various healthcare settings.
To stay up-to-date with PhysioPod's latest news and updates, please visit their websites at www.physiopod.co.uk or www.physioequipment.co.uk.
Email: info@physiopod.co.uk
Office: 01159 167 685
Mobile: 0788 692 5715
SOCIALS
INSTAGRAM https://www.instagram.com/physioequipment/
FACEBOOK: https://www.facebook.com/physiopod/?locale=en_GB
TWITTER: @physiopodukltd
LINKEDIN: https://www.linkedin.com/in/mary-fickling-4837025/