13 May 2022
The Physique Pavilion is Back For 2022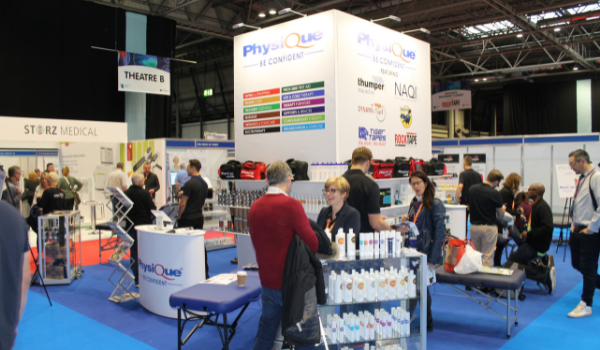 Last week Therapy Expo confirmed its partnership with Physique Management. It's official, the Physique Pavilion will be back for 2022!
Why have you partnered with Therapy Expo? Have you partnered with us before?
Therapy Expo provides Physique a great opportunity to meet many of our customers face to face in one location. It's a fantastic way for us to showcase our products so therapists from all levels can see our range and ask any questions. We also partner with a selection of brands on the Physique Pavilion, so if there are any product queries, we have the experts all in one place.
We have had a stand at Therapy Expo for the last 5 years.
What products/services/speakers are you bringing to Therapy Expo this year?
With over 3000 sports healthcare products available from our store, we aim to focus on the most popular products, as well as any new and exciting additions that will be of interest to visitors.
Physique has a comprehensive product choice for all types of therapy and settings. From Physiotherapy and Osteopathy to Acupuncture and Massage Therapy, our customers range from private practice to mobile therapists.
We supply therapy essentials to all levels of sports, from juniors and amateur through to professional clubs, so visitors can find the right solutions for their team.
Our range covers taping and strapping, sports first aid, massage, therapy furniture, electrotherapy, supports and braces… plus much more.
We'll also be joined by experts from some of the key brands we work with, so we welcome any technical queries on particular products.
What are you planning to do at Therapy Expo? Do you have any exciting features? What would draw visitors to your stand/sessions?
Throughout the show we will have a number of therapists demonstrating our products. This includes taping and strapping demos, percussive massage experience where visitors can get a free massage, manual therapy technique, demos plus much more to be announced.
We'll have plenty of show offers and added value promotions at the Physique Pavilion, so visitors can get some great deals.
What are you most excited about for Therapy Expo?
Having the chance to meet new customers and catch up with many of our existing customers is always exciting. It's the biggest show we attend, so the atmosphere is lively and we learn so much we can take away to help develop our business.
Please could you give us a brief bio/history for your company. 150 words max.
Physique Management has supplied sports healthcare products to all levels of sport, from grassroots to elite sports for over 20 years. With customers including The British & Irish Lions, GB Hockey, England Netball, English National Ballet and Watford FC, our products are trusted by professionals in the most demanding of situations.
We've partnered with some of the world's leading brands, medical professionals, clubs, and affiliates to develop a range of products and service to help keep patients and therapists in top condition.
We're extremely proud of how far we've come, and we owe it all to our customers and dedicated team.