05 Dec 2021
Reuniting Therapy professionals – why Therapy Expo is the cornerstone in the therapy calendar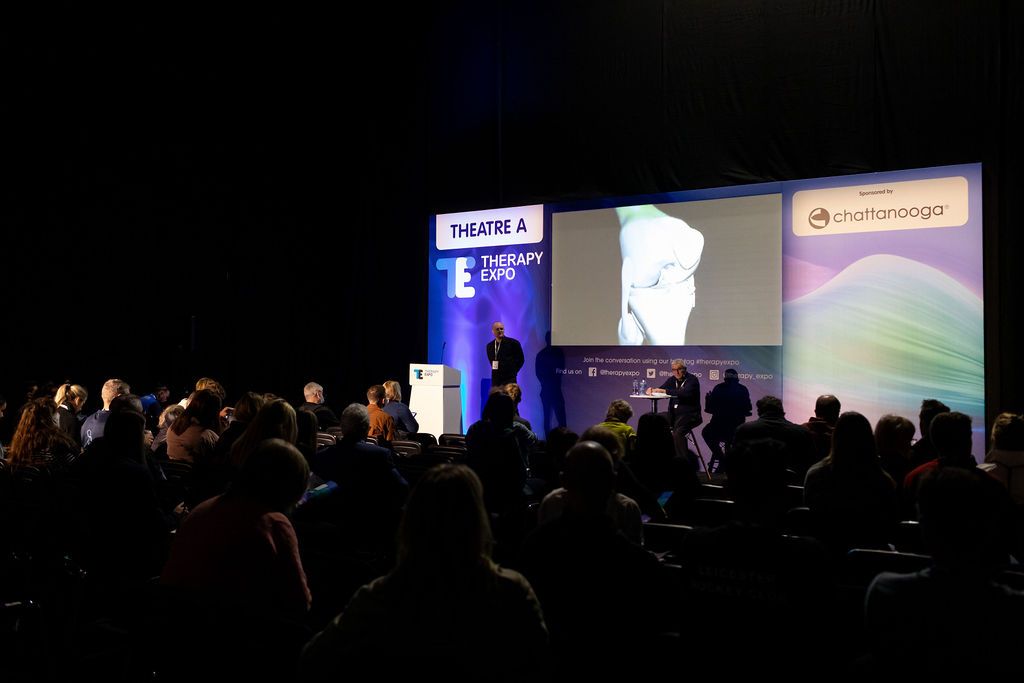 On the 24-25 November 2021 Therapy Expo welcomed thousands of Therapists from a huge variety of specialisms back to the NEC, Birmingham for the must attend event in the therapy calendar.
It had been two years since the last edition, making it the first major reunion for the therapy community since the pandemic began. Carla Bickerstaffe, Sports Therapist commented that it was "Great to be back at an event, to see and hear live speakers again." There was a real buzz in the air as Therapy Expo brought together a multitude of different practitioners from Physiotherapists, Chiropractors, Sports Therapists, Osteopaths, Sports Massage Therapists, Soft Tissue Therapists, plus many more.
Therapy Expo is a place to educate, inspire, and provides an opportunity to meet other influential professionals across multiple disciplines. The two-day event consists of a comprehensive conference programme to deliver accredited CPD education, 100+ leading therapy suppliers in the exhibition hall and is a place to facilitate important discussions through networking.
This year, the show gathered visitors, exhibitors, and world-class speakers once again. "I absolutely loved the atmosphere and it's been a great experience." Annamaria Cordella, Sports Massage Therapist.
In-person learning has been especially missed during this pandemic. Therapy Expo 2021 meant that individuals could finally access hours of live content, engaging with speakers and associates for an enriched education experience. Delegates could choose from over 70+ CPD accredited interactive lectures and practical workshops across seven different theatres and two demo spaces.
"Excellent thought-provoking sessions. Given ideas to develop in my practice in the coming twelve months." Iain Harris, Director, Iain Harris Physio Solutions.
Topics covered speciality areas including MSK, sports injuries, strength and conditioning, performance, rehabilitation, massage, spinal injuries, neurology, respiratory (including Long Covid), cardio, stroke, orthopaedic, elderly care, and women's health. Some of the unmissable sessions included:
Agility training - 3 things you need to get right for your weekend warriors' return to sport!
Uzo Ehiogu, Consultant in Rehabilitation and Physical Preparation, Integrated Clinical Strength and Conditioning / Royal Orthopaedic Hospital
Stick Mobility with Sonia Fierro
Sonia Fierro, Osteopath, Recover Stronger
Is the patient's shoulder pain caused from the shoulder joint or not?
John Gibbons, Registered Osteopath & Author, Oxford University Sports
Don't dis' the Clam!
Gemma Griffies, Physiotherapist, Presenter, Body Rehab Studios, Rock Tape, APPI
Scars and fascial function: essential information for therapists
Emma Holly, Principal Tutor and Clinical Director, Restore Therapy
Social media for therapists: the mistakes therapists make
Mike James, Special Musculoskeletal Physiotherapist, The Endurance Physio
The STA Podcast - 77 Hours of CPD Gold
Matt Phillips, Creator of Runchatlive and Host, The Sports Therapy Association Podcast
Working with Scars – assessment and treatments
Hannah Poulton, Specialist Physiotherapist and Clinical Director of HLP Therapy, HLP Therapy
Charlotte Speer, Show Manager of Therapy Expo said "Therapy Expo would like to thank everyone who visited and supported the 2021 edition, it was one for the books. CloserStill Media have already begun organising next year with Therapy Expo returning to The NEC, Birmingham on 23-24 November 2022. Save the date as it is set to be even bigger and better than ever before!
We can't wait to see the therapy community re-unite again, make sure you secure your place to the number one event providing comprehensive CPD accredited educational content and hands-on practical training for therapy professionals."
The organisers, CloserStill Media, specialise in global professional events within the healthcare and technology markets. The healthcare portfolio includes some of the UK's fastest growing and award-winning events, such as The Clinical Pharmacy Congress, The Dentistry Show, The Pharmacy Show, Best Practice and Acute & General Medicine.
It is a market leading innovator. With its teams and international events, it has won multiple awards, including Best Marketer – five times in succession – Best Trade Exhibition, Best Launch Exhibition, and Sunday Times Top 100 Companies to Work For – four years in series – among others.
CloserStill Media delivers unparalleled quality and relevant audiences for all its exhibitions, delivering NHS and private sector healthcare professionals from across occupational therapy, pharmacy, dentistry, primary and secondary care with more than £16m worth of free training.
---
For more information please contact –
Exhibition and speaker enquiries:
Charlotte Speer – c.speer@closerstillmedia.com
Marketing enquiries:
Harriotte Hodson – h.hodson@closerstillmedia.com