30 Oct 2023
Advanced Clinical Practice Provision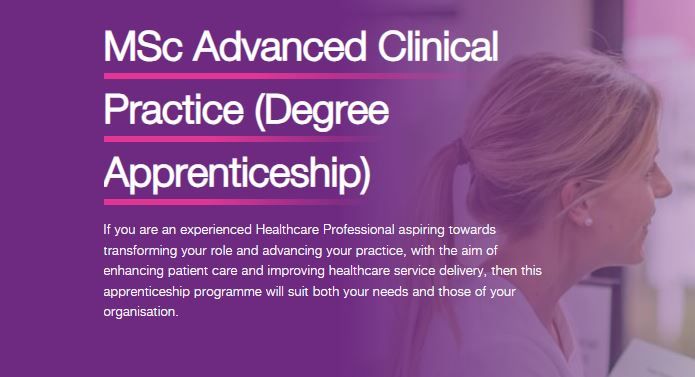 You may already be in a trainee ACP post or you may be an employer looking for an appropriate ACP apprenticeship programme for an employee. Advanced Clinical Practitioners are experienced clinicians who independently manage clinical care processes from start to finish. Working across traditional health and social care boundaries, they combine expert clinical skills with research, education and leadership (Institute for Apprenticeships and Technical Education, 2018).
The Advanced Clinical Practice apprenticeship has been designed to meet the Institute for Apprenticeships and Technical Education (2018) Advanced Clinical Practitioner apprenticeship SStandard, a framework which fits with an employer-led approach to ensure the educational and professional development requirements for the current and future advanced clinical practice workforce are met. As an ACP apprentice, you will work towards meeting learning outcomes that furnish you with the Knowledge, Skills and Behaviours, and underpinning values of the ACP Apprenticeship Standard. With a strong emphasis on work-based learning, learning occurs both in the classroom but predominantly in the healthcare environment, where you are supported by appropriate workplace supervisor/s.
The ACP Apprenticeship programme at AECC offers a flexible, individually-tailored pathway to meet both the ACP apprenticeship occupational profile, alongside the Masters (level 7) academic qualification. Due to its multi-professional and personalised nature, it is appropriate for healthcare professionals from a wide and diverse range of professions and settings, already in advancing practice roles within an established workforce team or who are being employed as trainee ACPs within a newly reformed or reforming healthcare service.