CureTape® Giant Sports Clinic Roll 31.5m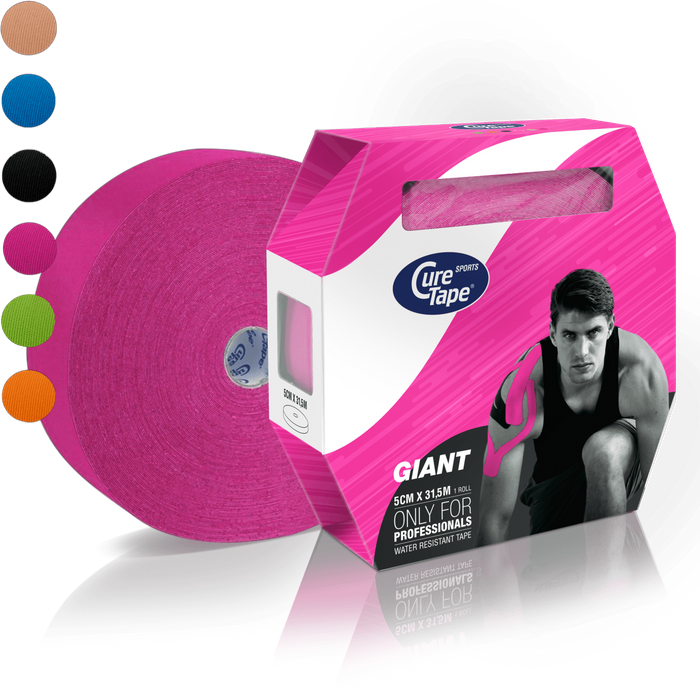 Our Giant Roll CureTape Sports is an essential for any sports enthusiast or physical therapy clinic. Now made from viscose instead of cotton, this kinesiology tape is designed to provide superior support and flexibility, ensuring your muscles and joints stay safe and secure during any activity. The adhesive layer sticks better on viscose making our CureTape Sports Giant Roll extra sticky.
This tape is conveniently sold in one large roll, measuring 5cm wide and with over 30 metres of total length. This means that it is incredibly versatile and able to cover large areas of your body, making it perfect for treating larger areas such as shoulders, backs, and legs. The strong adhesive backing guarantees that the tape will stay in place, no matter how strenuous the activity.
CureTape Sports Continuous Roll
This continuous clinic roll of kinesiology tape is a must-have for any physical therapy clinic or sports enthusiast. Its superior flexibility, long length, and strong adhesive backing make it an ideal choice for ensuring your body stays safe and secure during any activity. Plus, it's waterproof so swimming or sweating is no issue whilst wearing the tape. A good application will last you up to 4-7 days.