04 Sep 2017
Able To Dance Again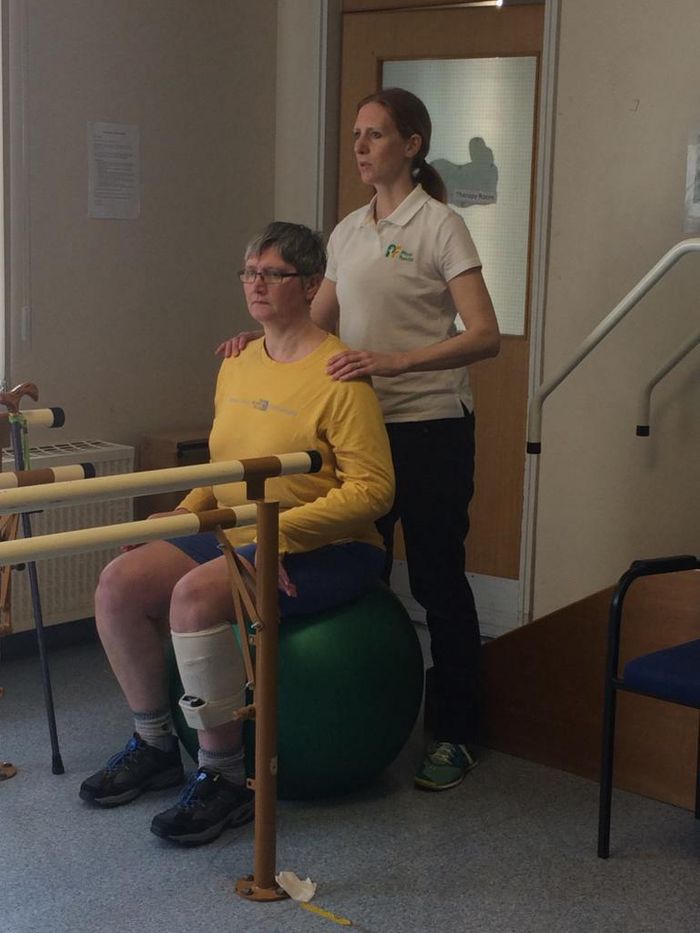 In 2013, Emily had a right sided stroke which led to a hemi craniotomy (removal of part of skull to relieve pressure from the injured brain). It was later found to be caused by a Patent Foramen Ovate heart abnormality.
The stroke led Emily to have severe left sided weakness with no activity in the arm, absent sensation and proprioception (awareness of her body position in space) throughout the left side and weakness in the left leg.
Emily first came to PhysioFunction, Bedford in October 2014 and after an initial assessment, she presented with a global left sided weakness, foot drop, absent sensation through the left side, no activity in the left arm with a subluxation. She was able to walk up to 25 metres very slowly using a tripod stick. She was able to manage the stairs, one at a time and very slowly. Emily really struggled with turning and had dizziness and vestibular symptoms.
As Emily had fallen on a number of occasions, she was experiencing a severe loss of confidence. Her short-term aim when starting physiotherapy with PhysioFunction was to improve her confidence, balance and return to her baseline mobility of walking 500 metres with a stick, managing reciprocal stairs, go to the local gym and climb Pen-y-Fan
Over the past three and a half years, Emily has received neurological physiotherapy on a weekly basis and in early 2015 was fitted with a Functional Electrical Device to help with weakness and walking in her left leg.
Treatment has included:
Bilateral arm exercises for the upper limb, sensory re-education, use of the gym equipment (bike, cross trainer, treadmill. Weights and theraband).
Balance & falls prevention and re-education using a gym ball, practicing getting on and off the floor, darts, use of the Wii, vestibular exercises and floor work.
Gait re-education, increasing weight bearing on her left side and stamina building
Ballroom Dancing!
Before her stroke, Emily would frequently participate in ballroom dancing with her husband. The PhysioFunction team arranged for Emily's husband to attend her physiotherapy sessions so that they could practice dancing together once more!
PhysioFunction always offers such variation with their treatment and will always encourage me to progress with my rehabilitation.Emily
Over the past two and a half years Emily's progress has been fantastic. She now walks with a stick and in recent weeks (for the first time) she has managed to walk short distances without the use of a walking aid. Her confidence has increased with her 'fear factor' score reducing to just 3/10 as opposed to 9/10 when walking unaided.
Emily now participates in a varied gym programme, attends her local gym 1-3 times a week and in April 2016, Emily started driving for the first time!
Emily's progress has been mapped from 2014 - 2017
In a 10 minute timed walk in 2014 - Emily took 33 steps in 57 seconds
In a 10 minute timed walk in 2017 - Emily took 27 steps in 32 seconds (6 steps and 25 seconds quicker over 10 metres!)
Sit to Stand exercises in 1 Minute in 2014 - Emily completed 3 exercises
Sit to Stand exercises in 1 Minute in 2016 - Emily completed 11 exercises
Sit to Stand exercises in 1 Minute in 2017 - Emily completed 16 exercises
-------------------------------------------
Emily now is keen to return to work and her long-term goal is still to climb that mountain! So the next stage of therapy is to practice climbing the small hill outside the Bedford PhysioFunction clinic and from there we are sure she will go onwards and upwards!
T: 0800 043 0327
www.physiofunction.co.uk