06 Aug 2017
Alex Tait, Newcastle Falcons - rest and recovery . . .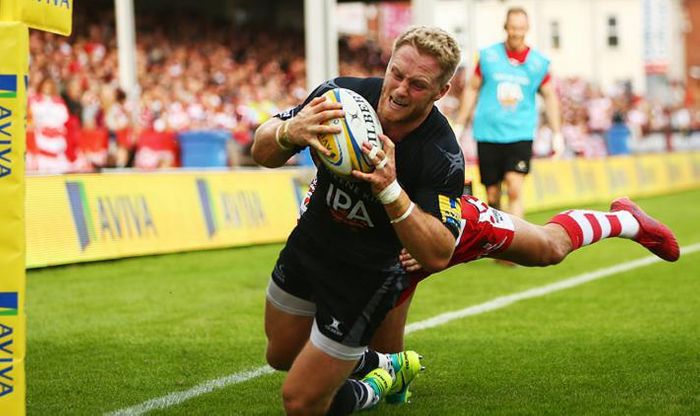 Alex Tait has represented Premiership rugby team Newcastle Falcons for his entire 10-year career. Over the length of his career he has witnessed the development of the professional game, with an ever-increasing focus on making performance gains. To help him get the very best out of his rest and recovery time, he recently bought a Mammoth mattress.
We caught up with Alex to talk about hard graft, the importance of recovery, playing against New Zealand legend Carlos Spencer, and getting a degree in Chemistry.
I'm originally from a little village called Wolsingham in the North East of England and started playing rugby at my local rugby club, Consett RFC, when I was 6 years old. I played there until I was fortunate enough to go to Barnard Castle School at 10. Barnard Castle is a big rugby school and has a great reputation for producing players who go on to play at the highest level.
During my playing time there I was scouted for Newcastle Falcons Academy and England U18s. I was lucky that I managed to get a contract straight from school and I have now been at Newcastle for going on 10 years.
As a player, I'd like to think that my teammates would describe me as honest and hardworking, and someone that they are happy to take to the field with. Off the field I am a lot less serious.
If I hadn't been offered a professional rugby contract, I always wanted to be a surgeon as a kid, so I guess if I would have pursued something in medicine. I actually graduated from Newcastle University in the summer of 2016 with a 2:1 in Chemistry. Due to rugby commitments it's taken me 6 years to complete, but I'd have to rank it up there among my proudest achievements.
I'm also proud to have played alongside and against many great players in my time at the Falcons – some more enjoyable experiences than others. I particularly remember playing against Carlos Spencer years ago and it was an absolute nightmare to defend as a fullback. He would look one way and kick the other!
On training, rest and recovery . . .
Our training regime can vary, depending on the day of the week we are playing a match, but we will usually be training 4/5days a week with a mid week day off for recovery. A typical day will have a morning gym session, team meeting and on-field training in the afternoon. Added to this are prehabilitation, recovery and rehabilitation sessions to ensure we are at our best to train.
As the years have gone by, training methods have developed and there has been much more focus on those little details that can improve performance and keep players fit and healthy. I myself have suffered a fair few injuries during my playing career but, fortunately, none of them now cause me issues on a day-to-day basis.
In fact, the only recurring problem I have tends to be lower back issues – which is why I was so keen to invest in a Mammoth mattress.
Can you tell us what your targets are for the rest of the season and into next? Our target this year is to finish in the top 6 and we will have to work incredibly hard to achieve it as the Premiership is so competitive.
I think it is absolutely vital nowadays to pay attention to rest and recovery time. It not only helps players to stay at their peak; it also helps to prevent injuries from occurring.
As I've got older I have definitely invested more time into my recovery, both at training and at home. I usually aim for at least 8 hours sleep a night and if I fall short of that I will feel sluggish and probably a bit irritable. That's not an ideal for training or playing so I typically make sure that I get a good night's sleep to set me up nicely for the day ahead.
When I'm away from home with the team or on holiday, I always make sure that the pillows at the hotel are the right height for my neck. I'll also take a book to read in bed as it helps me to nod off. Generally speaking, I'm a pretty deep sleeper. Although I've been told that I roll around a lot during the night!
I never watch anything on my laptop or phone when I'm in bed. After I brush my teeth I will read a book until my eyes are drooping, then I switch off the lamp and I'm pretty much asleep.
On his Mammoth . . .
I found out about Mammoth mattresses through recommendations from some of the players I know who have invested in one. I also found more information on the brand through the RPA website. At Newcastle one of the boys, Rob Hawkins, highly recommended Mammoth when I was looking for a mattress to help with my lower back pain.
I went down to the nearest stockist in Newcastle, tried it out and thought it was fantastic, so I bought it there and then. I've invested in the Performance 240 firm, which is just the right tension for the curvature of my spine.
I used to wake up with a bad back in the morning and I'd often get too hot with my old mattress. But the Performance 240 seems to have solved these problems.
If you could have a (purely platonic) late night chat with anyone, dead or alive, who'd be worth losing sleep over – and why?
I'm a Glasgow Rangers football fan and so I'd have to say that I'd like a chat with former manager, Walter Smith. He led them to 9 titles in a row and I would love to hear the stories about some of the characters in the team over those years.