07 Aug 2018
Better Sleep Case Study: Ben Youngs, Leicester Tigers and England Rugby Player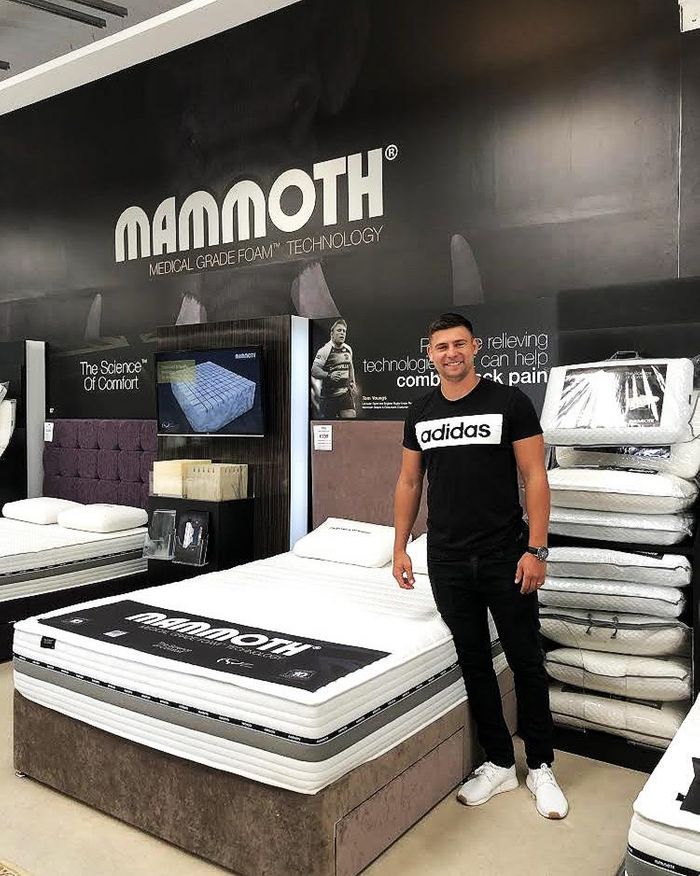 As one of England's most experienced rugby players, Ben Youngs has been at the top of the game for nearly a decade. Ahead of the new rugby season we caught up with him to talk about the battle to make the 2019 World Cup squad, competing against Israel Folau and sharing a late-night chat with Will Ferrell.
Rugby has been part of Ben Youngs' life since the tender age of 7. As a junior he represented Holt RFC in North Norfolk where he learned the ropes and discovered a natural talent for the sport. By the age of 15 he was scouted by Leicester Tigers, going on to play at the prestigious academy until he signed his first senior contract at the age of 18.
Off the pitch Ben is as laid back as he is focused on it. Having represented club, country and the British Lions over the course of his career, Ben knows better than most what it takes to get to the top of the sport and stay there.
He says,
"It's all about getting yourself right to perform at the weekend. You have to be prepared to put in the work every day to ensure that you can keep performing at your peak."
Ben's own training regime consists of three weights sessions a week and three rugby sessions. These blocks of training are also accompanied by numerous trips to the physio and meetings with the coaching staff to ensure that the right preparation is done ahead of match day.
With a World Cup on the horizon in 2019, Ben knows that laying the right foundations now could make all the difference in getting selected for the final England squad and going on to enjoy a successful tilt at the William Webb Ellis trophy.
Already a veteran of two World Cups, Ben says he would relish the opportunity to take on the best in the world and test himself against the very best opposition. He identifies Israel Folau of Australia as one of these players, someone "who can change a game and win a match on their own with a flash of brilliance".
For all England players the first priority ahead of 2019 is to play well and stay fit – something that Ben says he has always worked hard at.
"Recovery and sleep have a huge role to play in my performance and injury prevention. Sleep is when the body heals. Even when I'm not injured I will take a 30-minute nap every day to allow the body to recover. Understanding the importance of sleep is what made me look more closely at my own sleep quality and that's why I decided to invest in a Mammoth.
Ben first got in touch with Mammoth after he received a recommendation from a team-mate who had witnessed a marked improvement in sleep quality and a reduction in back pain due to the mattress. He says,
"With two young children it isn't always easy to keep to a strict routine, but I typically aim for 8 hours a night. To accommodate the kids, my wife and I have recently upgraded our Mammoth to a Superking SuperSoft 270 and I have to say I have already seen a big difference thanks to the size and comfort of this mattress. My recovery and general wellbeing have both improved.
"I know now that whenever I'm in bed I'm making the most of it on my Mammoth Performance mattress. Without that quality sleep I would feel lethargic at training and not able to maintain the intensity I need to get me through a session or a game."
Having toured all over the world with club and country, Ben is all too familiar with the challenges of sharing a room with other rugby players – something that isn't always ideal for sleep quality. So, what does he value in a room-mate:
A non-snoring room mate is always a good start," he says. "But I also appreciate a room with a comfortable pillow, quality mattress and the right temperature."
And if Ben could share a room with anyone else worth losing sleep over? "I love comedy and I'm happy to lose sleep if it's because I'm having a laugh. So, I'd say sharing a room with Peter Kay, Tommy Cooper or Will Ferrell would be good fun."