11 Jun 2017
Better Sleep Case Study: Hollie Webb, Olympic and European Champion GB Hockey Player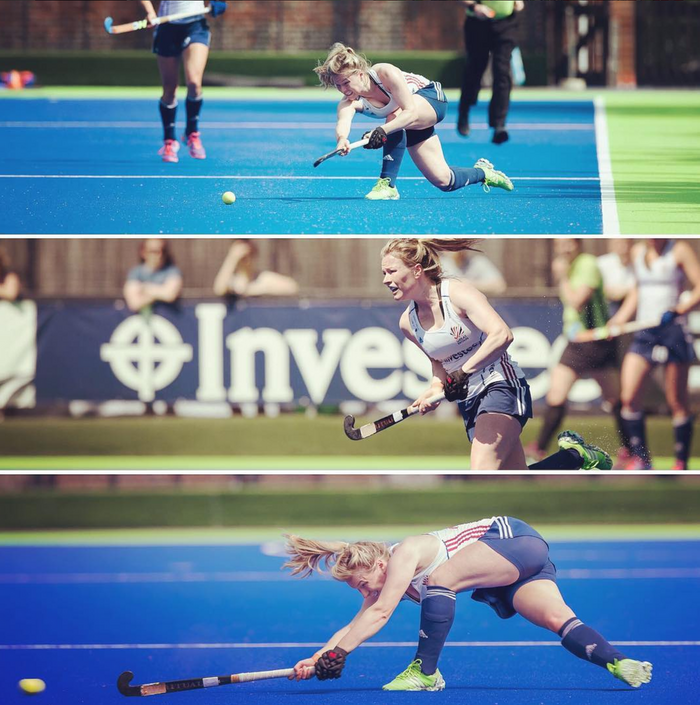 Better Sleep Case Study: Hollie Webb, Olympic and European Champion GB Hockey Player
Hollie Webb and her GB Hockey teammates shot to fame in 2016 after taking gold at the Rio Olympics in one of the most tense climaxes to a tournament in living history. As part of a Women's team that have also taken European gold and Commonwealth silver in recent years, Hollie has been involved in the sport through a period of unprecedented success.
Having recently purchased her first Mammoth – a Performance 240 – we caught up with Hollie to talk about rest, recovery and dreaming of Tokyo in 2020.
Hollie on getting into hockey . . .
I have played hockey since the age of 8. I started playing at my local hockey club and I haven't stopped since. I progressed through the age groups at county, regional and international level until I made my senior international debut in January 2013.
We train full time at Bisham Abbey with the GB women's squad. A normal training day consists of either two 2-hour pitch sessions or 1 pitch and 1 gym session. We will also tend to have 2 meetings a week, a physio session, nutrition advice, video work and 1-on-1 meetings.
Hollie on being at an Olympic Games
Arriving in Rio for the Games it felt like our team had just got bigger. We are used to being a tight-knit squad and touring with people involved in hockey. But it was so nice to be at an event where others sports were taking place and you were part of an even bigger team. Every day I could feel the momentum building as more and more athletes were winning medals. It was such a successful Games for Great Britain that you couldn't help feed off that energy.
It's hard now to put into words what it felt like when it came to being the ones in the spotlight and actually delivering on the biggest stage. It was just a feeling of pure joy. It was emotional especially as only the 16 girls who played got medals. Our medal was won by the 31 athletes in our training squad and the support staff who are so important to helping us prepare. We wouldn't of won gold without every single one of them. So it was amazing to see and feel what teamwork really can achieve. In many ways I don't think winning Olympic Gold will ever really sink in, though.
Hollie on life since the summer of 2016 and looking forward . . .
It's not really changed me much, I don't think. I mean, you get asked to do more stuff and we have been invited to do some amazing things like Strictly for Children In Need but I am now back training full time with the GB squad building towards the next Olympics. After a while things settle back down and normal life resumes.
The aim now is to make Tokyo in 2020. It is still a long way off and there are lots of competitions for us to take part in between now and then. The World Cup is being held in London next summer so that's a key priority for the squad now. I need to make sure that I'm in the best possible shape and work hard to gain selection for that before I look too far ahead.
Hollie on sleep . . .
Rest and recovery is massively important as an elite athlete. If I don't get a quality night's sleep I feel the effects for days afterwards, both physically and mentally. Having a good night's sleep means I am switched on more and am able to perform at a higher level.
I aim for between 8 and 9 hours sleep a night. Any less or any more and I feel rubbish. I feel sluggish and will tend to have a headache, especially if I have not had enough sleep.
When the time came for me to get a new mattress I knew it was important to get it right. Lots of the girls in the GB squad sleep on Mammoths and they've all spoken very highly of them. The physios I work with also recommended them and so I decided to try one out for myself.
I bought the Performance 240 regular. I love it and have not had a bad night's sleep since I have had it. I no longer wake up with my lower back aching like I did before either.
If Hollie could have a (purely platonic) late night chat with anyone, dead or alive, it would be . . .
Adele. She is hilarious! I could listen to her speak or sing for hours.