09 Jul 2017
Better Sleep Case Study: Sue Harrison, British 100km running champion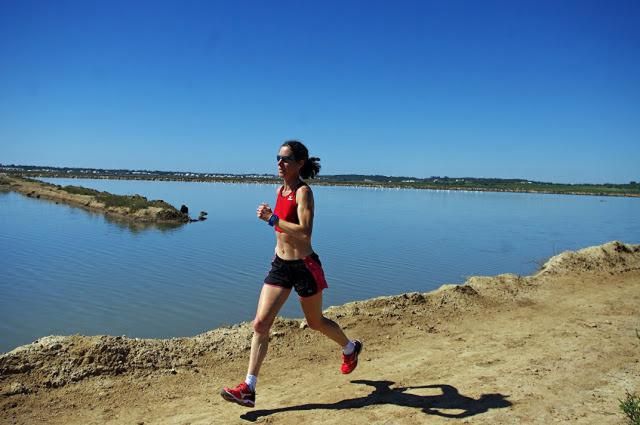 At Mammoth we are lucky enough to speak to a wide range of elite sportspeople. From professional rugby players to Olympic athletes to bodybuilders, our mattresses appeal to competitors of all shapes and sizes. One of the most recent additions to Team Mammoth is Sue Harrison, an endurance athlete who takes stamina to a whole new level.
Sue is the current British 100km running champion and currently ranked number 7 in the world for her event. Remarkably, she has clocked up enough miles to circle the Earth twice . . . and she's still going strong.
We spoke to Sue to find out how she first got into ultra-marathons and endurance running, and why recovery is crucial for someone who puts their body through such intense physical activity.
Here she is in her own words.
My athletics career started at primary school, as a sprinter and long-jumper. Then, when I moved to secondary school, I discovered I was much better at the middle distance running events. I really enjoyed competing in the 800m and 1500m so I joined my local athletics club, Leamington C&AC, when I was 15. I am proud to say that I have now been a member for over 30 years!
Over the years my race distances gradually increased, first to marathons and then to ultra-distance (50km and 100km). I've represented both England and Great Britain on several occasions, including two World 100km Championships, two World Trophy 50km Finals (winning gold and silver) and one European 100km (bronze medal). This year I added the British 100km title and I'm currently ranked number 7 in the world over 100km.
 guess my proudest moment would be winning the bronze medal in the European 100km Championships in France in 2013 and standing on the podium watching the union flag being raised. But there are a few others that come very close – winning the 2010 50km World Trophy Final in a new British Record time; winning the 2017 British 100km Championships and, many years ago, receiving my gold Duke of Edinburgh's Award from Prince Philip himself.
Outside of athletics I combine my running with a career as a Chartered Landscape Architect at Warwickshire County Council. I work a 30-hour week and my training and racing has to fit around this. It can be hard at times, and almost all of my annual leave is used for training and racing, but I enjoy both and they say variety is the spice of life!
Training
I run six days a week, plus I also do strength & conditioning and core stability work. My running is a mixture of long steady runs, tempo runs and shorter interval sessions. I can run anything up to 80 miles or more a week in the build-up to an ultra race.
Having just competed in the British Championships, I'm currently getting back into serious training after taking a few weeks rest and I'll be setting new goals with my coach as the season progresses. Generally, I have to say that the main goal is to stay injury free and to continue to enjoy my running.
Injuries
I've suffered many injuries during my career. I've had both my Achilles tendons operated on in the past and since then I've worn a night splint on my worst affected leg. I still sleep with this on every night as it holds my tendon in a stretched position, which helps to alleviate stiffness in the morning. The boot is quite cumbersome and took some getting used to at first, but I persevered. I've actually been wearing it for about 20 years now and have got used to sleeping in it!
I've also had high hamstring tendinopathy for the last few years, and related issues in my hip and lower back, which are still ongoing. These injuries come with the territory in endurance running and it's crucial that I take every measure possible to keep my body as healthy as possible. Rest and recovery is a hugely important part of my training regime as it's during this time that the body repairs itself from the rigours of training and becomes stronger.
After an ultra race a period of rest not only helps my body to recover, but also helps me to recharge my batteries mentally, too. I aim for at least 7 hours, but I have to be honest; I don't always manage that! I'm quite a light sleeper and often restless. I suffer from insomnia, usually just before a major race, hence not always reaching my 7+ hours target. This is one of the reasons I recently decided that I should shop around and invest in a better mattress.
When I don't get enough sleep I feel tired, grumpy and lacking in energy – that's not a great combination when I have to do a full day at work followed by a hard training session! When I'm away competing I never go anywhere without earplugs and an eye mask to help me sleep. I'm not great at sleeping in a room with too much light. As a Raynaud's sufferer I also prefer to be warm and cosy in bed, especially my feet. When it's really cold I need my bed socks!
If I'm travelling somewhere where luggage isn't an issue I'll sometimes take my own pillow, too. I've now got myself Mammoth pillows, which I find extremely comfortable and give great support for my neck. This has really helped me to get the rest I need.
Discovering Mammoth
I probably first became aware of Mammoth through the various adverts and articles they had in the local press and in athletics-related magazines. From there I was interested enough to look at the Mammoth website to find out more about the science behind their unique range.
I read lots of great reviews from other elite athletes and I was impressed by the results that sportspeople were seeing through improved sleep. When I went to buy my new mattress I tried out several different brands, but found Mammoth to be by far the most comfortable and also seemed to have the research to back up the technologies.
I chose the Performance Pocket 1600 at The Bed Factory in Leamington Spa. It was reassuring that the sales staff there new their stuff; I received excellent advice from the friendly and knowledgeable team there.
I love my Mammoth mattress – it's definitely the most comfortable mattress I've owned. Whilst it hasn't yet completely cured my insomnia I think it has helped – I certainly find it much easier to drop off to sleep if I'm comfortable. I find the mattress gives me just the right amount of support, without feeling too hard or too soft, and my hip has ached less since I've been using it.
When I go away to training camps or races I really notice the difference with a strange mattress and definitely miss my Mammoth!
If you could have a (purely platonic) late night chat with anyone, dead or alive, who'd be worth losing sleep over – and why?
Hmmm, that's a difficult one! Can I be greedy and have two? I've always wanted to meet Steve Cram, who was my first athletics inspiration, and Seb Coe, who grew up near to where I live. His early athletics career was actually remarkably similar to mine! I'm sure we'd have plenty in common to chat about!