09 Apr 2017
Exercises for Medial Tibial Stress Syndrome (AKA 'Shin Splints')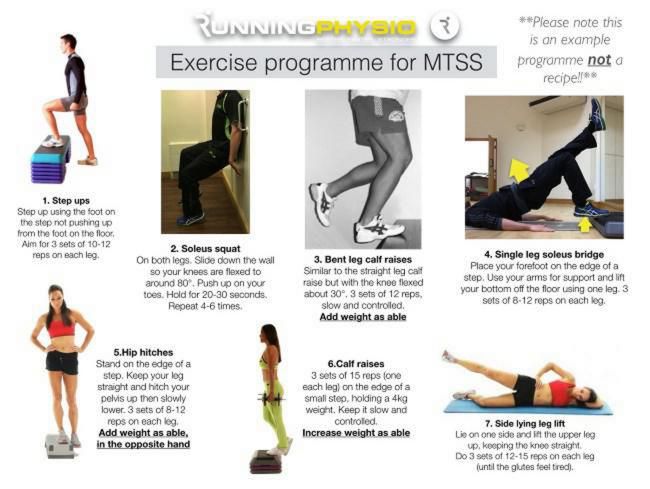 It's easy to talk generally about rehab, 'strengthen x,y and z', improve movement control etc but we don't often expand on what this means exactly. This is a brief look at an exercise programme I used recently for a patient with Medial Tibial Stress Syndrome.
The patient, is a young male middle-distance runner called Ben. He is, at this stage, pain free with all daily activities and running up to 40 minutes with no symptoms. He's progressed nicely from the initial session where even jogging on the spot was painful, however, longer runs over 45 minutes cause some discomfort in the medial tibia. This has been a recurrent issue and Ben's aim is to return to full training without these symptoms. He is gradually re-introducing high intensity sessions with guidance from his running coach and managing well. Assessment reveals mild weakness in Soleus, Glute Med and the posterior chain. Control of single leg balance and single leg dip is good and equal left and right.
Broadly speaking our aims are as follows:
Improve local load capacity in the calf complex
Improve kinetic chain load capacity considering the key muscles that aid in managing load
Include weight-bearing exercises to improve bone load capacity
So Ben's programme looks like this:
1. Step ups - Simple but very effective! This exercise is first due to control aspect; doing this once fatigued from the other exercises may compromise movement quality.
2. Soleus squat - A nice isometric option that will challenge both the Soleus and Quads
3. Bent leg calf raise - A significant challenge to the calf complex especially Soleus.
4. Single leg soleus bridge - Note this bridge is done with the forefoot on the edge of a step, with the aim to lengthen the lever to challenge the posterior chain & to work the soleus.
5. Hip hitches - EMG studies suggest high levels of Glute Med activity and we can use this emphasize a 'high free hip' to help reduce pelvic drop during loading.
6. Straight leg calf raises - These will strengthen Gastroc and Soleus.
7. Side lying leg lift - This old chestnut works Glute Med with minimal anterior hip flexor activity.
Exercise prescription for MTSS and other injuries requires an individualised approach considering how, when and where the athlete might do their rehab. It's essential too that they know why they're doing it and how it will help them achieve their goals. Not every patient will want an extensive programme; in fact in many cases 3 or 4 key exercises can be very effective. If you prescribe exercises try doing one of the programmes you've provided for a week it's much harder than you'd think! My final point is key exercise prescription is all about reasoning not recipes!