23 Aug 2016
Golf Injuries...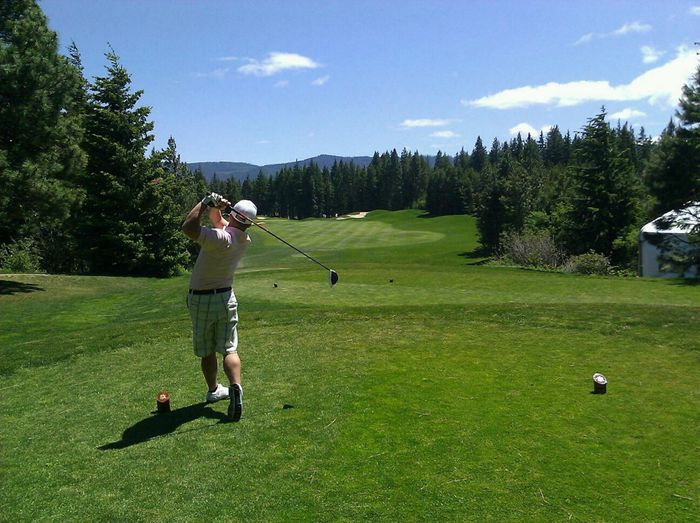 Golf injuries are usually a result of the collective effect of factors such as incorrect stance, poor posture, a weak or over-tight grip, idiosyncratic swing mechanics and untrained or overused muscles. The cumulative effect of these characteristics make it difficult to isolate one overriding factor.
As a therapist there are several factors to consider when objectively assessing an injured golfer. These include:
Posture
Wrist and elbow rotation and flexibility
Balance
Shoulder mobility (external rotation)
Thoracic spine range of motion
Gluteal strength
Core strength
Hip mobility (internal rotation)
Hip flexor/hamstring/calf flexibility
The objective assessment of these factors, specific to the injury, can provide a clear indication of the potential cause of the injury linked to the golfer's individual playing characteristics. For example a golfer complaining of elbow pain may be diagnosed as medial epicondylitis and this could be the result of an incorrect grip or incorrect positioning of the elbow at the top of the back swing. In this case the therapist would treat accordingly and refer the golfer to a local professional at his or her golf club for swing/grip correction.
How should we treat these injuries?
The rehabilitation process should be dynamic and golf specific in order to mimic the joint and muscle actions produced in the game. Here we highlight just a few potential treatments and rehabilitation exercises for the injured golfer.
Soft tissue release:
Release tight global mobilising muscles (hamstrings, tensor fascia latae and iliotibial band).
Fore arm strengthening:
Strengthening the forearm and hand muscles have also been shown to be beneficial in reducing elbow injuries. Hold a golf club half way down the shaft. Medially rotate the elbow so the forearm is parallel to the floor. Rotate the wrist downwards towards the floor and then back up to the starting position. Three sets of 10 to 15 repetitions every other day.
Ball squeeze exercise
Grip the ball in the hand of your affected arm, squeeze the ball and keep it held for three seconds, then release. Repeat the exercise for 10 squeezes, twice every other day, increasing the duration of the squeeze.
Thoracic (upper back) mobility:
Thoracic mobility is vital in achieving a full shoulder turn whilst maintaining core and hip stability in the back swing, but it is also important in the downswing transition:
Spine mobilizations on a foam roller is a good way to develop thoracic extension and improve a hunched
Kneel down on all fours, place your right hand behind your head, and point their right elbow out to the side. Brace your core and rotate your right shoulder toward your left elbow. Follow your elbow with your eyes as you reverse the movement until your right elbow points toward the ceiling. 20 repetitions each side.
Trunk rotation standing or sitting. Hook your arms around the golf club placed lengthwise across your back. Rotate your trunk and head to the left and hold it there for 20 to 30 seconds. Repeat this on the other side. Sitting reduces the stretch in the lumbar region.
How can we prevent these injuries?
The management and prevention of many golf injuries can be obtained through the alteration in technique, reduction in practice regimes and adequate warm up phase.
An appropriate warm up for golfers should include a period of aerobic exercise to increase body temperature, followed by stretching of the 'golf muscles' (hands, wrists, forearms, shoulders, lower back, chest, trunk, hamstrings, and groin). A series of golf swings with a progressive increase in range of motion and vigor should then be performed. Only a small proportion of amateur golfers perform appropriate warm up exercises, so every therapist should educate golfers about the benefits of warming up with appropriate warm up routines.
To read a full article published by FHT please visit www.fht.org.uk/golf-injuries or talk to us at Therapy Expo, on stand TA32.