23 Aug 2016
Kinesiology Taping: 4 common myths busted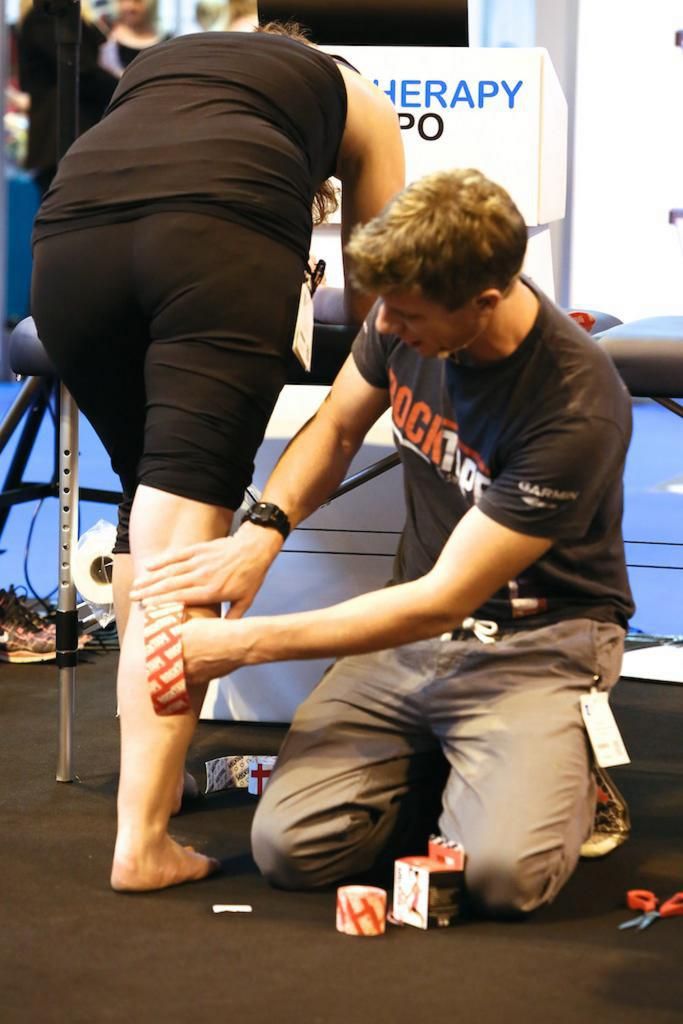 Kinesiology tape is the generic, non-branded term for elastic tape made of tightly woven elasticated cotton and nylon fibres. It is worn on skin in an effort to reduce pain, aid injury recovery, and improve movement.  Kinesiology tape has enjoyed a meteoric rise in recent years. Many of the world's top athletes have been seen wearing it, and it has become common place in most physiotherapy and chiropractic clinics.
Throughout these recent times, a few myths about taping have emerged.  I going to put the record straight on the most common ones here.  But before I do that let me make clear my bias - I am a physiotherapist and a tape fan.  In fact, I like the stuff so much I bought shares in a tape company (Rocktape) and now head up their professional education program in the UK and Europe. 
My experience of sticking tape on thousands of patients, running hundreds of taping workshops for health professionals, and taping myself whenever I hurt, is that tape works. It does cool and surprising stuff to reduce pain and improve movement.  But I also hear a whole load of nonsense, misinformation, and misconceptions about kinesiology tape and what it does.
1 - There Is No Evidence for Kinesiology Taping.
This myth comes from members of the public and health professional alike. I'm not going try and tell you that there is an avalanche of super high quality evidence that forms an irrefutable case.  That isn't really true of anything I do as a physio, except perhaps evidence suggesting people get up and move around a bit more.
But there is a surprisingly large body of academic work studying tape.  Although the research often isn't as high quality as it might be, and the results are sometimes conflicting, the overall theme is encouraging and positive.  The most recent systematic review here found tape to be effective in reducing symptoms of acute pain (under four weeks) when used combined with exercise. 
Several randomly controlled trials have demonstrated the effectiveness of tape to reduce pain and improve function in a variety of conditions. This study showed that tape and exercise is as effective as an injection and exercise in managing patients with sub-acromial impingement of the shoulder. Also for impinged shoulders, this paper shows tape combined with exercise results in superior outcomes in pain, movement, and function than placebo taping and exercise. 
There are lots more. Plug 'kinesio tape' or 'kinesiology tape' into Pubmed or Google Scholar and take a look. You might be surprised.  Sure, it's not all one-way traffic. There are studies such as this one suggesting tape has little or no effect. However, like most of the studies with negative findings, they are testing tape on uninjured, unfatigued, and uncompromised subjects, it's no great surprise tape doesn't do much in these cases.
So, more high quality evidence is needed. But the statement 'there is no evidence for taping' is scientifically refutable. Let's all please stop saying it.
2 - Kinesiology Tape Is Just a Placebo
It just ain't.  An element of how it works may be down to placebo effects, just like any treatment.  But several studies like this, this, and this have all compared a therapeutic kinesiology tape application with a placebo tape (either a different tape like micropore or a kinesiology tape put on with no stretch).  All these studies demonstrate that the effects of kinesiology tape cannot be replicated by placebo taping. 
However there are always flies in the ointment, like this study that found the placebo taping they used improved jump height just as much as the 'therapeutic'  taping.  Perhaps this is just a good reminder that we have much to learn about how tape works, and how we can best use it alter variables like pain, mobility, and endurance.
3 - The Colour Makes a Difference
It doesn't, but then it also kind of does. The myth I hear most is that pink tape will warm stuff up and blue tape will cool things down.  This goes back to the history of tape being developed in Asia and picking up influence from colour therapy.  The theory is lighter colours reflect more heat whilst dark colours absorb more, thus altering tissue temperature under the tape. 
There's a couple of problems with that. Any change in temperature due to this mechanism would be infinitesimally small. And through homeostasis the body is constantly adjusting blood flow to keep the tissue at 37.5°C regardless of environmental conditions. May I respectfully suggest that if you want to cool something down, try an ice pack. If you want to warm something up, try a heat pad or nice hot bath. But don't sweat it over tape colour. 
Whilst I don't believe colour affects the tissue or local effects of tape. It undoubtedly does in a psychological sense.  Shrinking violets probably won't appreciate lime green tape, supports of team X won't like being taped up in the colour of team X's arch rivals.  People are more likely to feel positive about wearing tape if it's a colour they like.
4 - It Is Difficult to Apply and You Need Lots of Training
No you don't.  It doesn't take years of training or detailed knowledge of anatomy to work out a safe and effective taping.  There is a bit of knack to handling the tape and getting it securely stuck and wrinkle-free, so you might want to practise a couple of times before you stick it for real.  There are a myriad of You Tube videos (find mine here) which will show you how to tape for most common injuries.  A few tips:
Keep it simple, less is more.
Stretch the tissue not the tape.
Rub the tape all over to ensure a good bond between skin and tape.
If you have a problem more complex than a bit of pain, tightness, or stiffness, seeing a good therapist with taping experience is probably time and money well spent.
Kinesiology tape is a safe, effective, low risk way to give your body a nudge in the right direction towards less pain and better function.   It is not magic and it is not a replacement for rehab and sensible injury management.  If you've got a niggle, grab a roll (preferably of Rocktape) and give it a go.  You can read all the articles and research papers you like, but the best way to understand what this stuff does is to feel it do its thing.
RockTape will be at Therapy Expo, visit us on stand TF58.