24 Oct 2017
Neurofit Exercise Therapy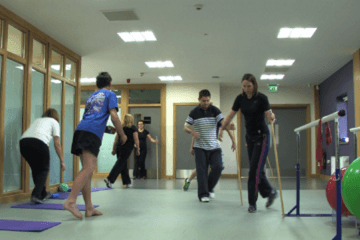 Neurofit Exercise Therapy
Neurofit is an exercise therapy aimed at Stroke Survivors, Head Injury or Spinal Cord Injury clients but it can also help prevent further damage in progressive neurological conditions such as Parkinson's or Multiple Sclerosis.
The sessions are aimed at maximising our client's fitness, strength and the exercises are tailored to each individuals' abilities and needs.
PhysioFunction's Neurofit sessions are run by a professional fitness trainer together with an expert Neurological Physiotherapist, and sports-therapist to ensure exercises are safe and effective. The sessions are designed for clients who are medically stable, able to stand and walk alone and get up from the floor independently or with minimal assistance.  Everyone who takes part in Neurofit are assessed beforehand to ensure that the therapy is tailored correctly to their needs.  A re-assessment after the course takes place to show any changes in the client's mobility and function.
Neurofit helps our clients both physically and mentally. Jonathan Griggs one of our clients has recently given us great feedback with regards to the Neurofit class he attends at our clinic in Northampton:
After having physiotherapy at PhysioFunction my physiotherapist told me about something called Neurofit, run by a personal trainer and a neurological physiotherapist, which I likened to a gym session for people who have neurological injuries and a competitive nature. It also has greatly improved my mental wellbeing. Initially the physiotherapist would hold my hemiplegic knee, which had a tendency to swing outwards when I did squats.  After six months of Neurofit I could see how much stronger my hemiplegic knee had become.
Ultimately, Neurofit is about getting fitter, moving better, and most importantly, having fun in a supportive group environment.  PhysioFunction will be undertaking a Neurofit Boot Camp Demonstration at Therapy Expo on Wednesday 22nd November in the Neuro Demo Zone. Join us at 14.45 – 15.15 to learn more about Neurofit.
www.physiofunction.co.uk/neurological-services/neurofit
A special thank you goes to Nikki Penny who designed the Neurofit programme.
www.nikkipenny.co.uk