18 Jul 2018
Talking performance, recovery and investing in sleep with Marc Finney of Northampton Saints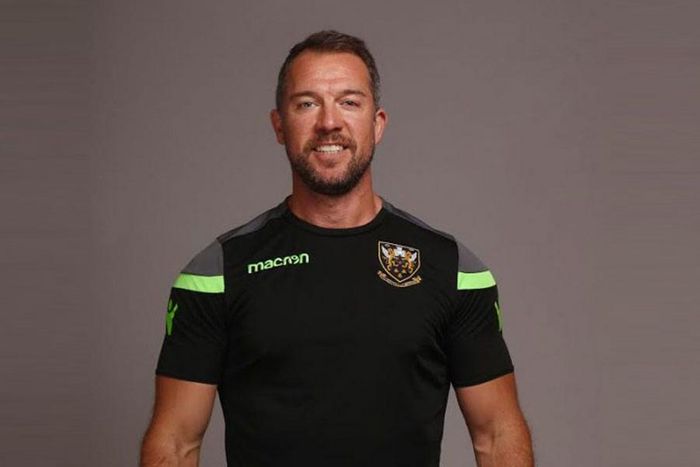 Better Sleep Case Study: Marc Finney, Head of Strength and Conditioning, Northampton Saints RFC
Marc Finney began his career as a lecturer. He spent 6 years lecturing in Sport and Exercise Science with a keen interest in fitness training. His first foray into professional sport was with Lincoln City FC where he worked part time as a fitness coach. Later, he joined SAQ International as a Training Director.
In 2008, Marc took a job at Saints as an Assistant Strength and Conditioning Coach then progressed to the Head position in 2014. In this role he is responsible for keeping the team healthy and able to reach peak performance. We caught up with him to find out more about what it takes to get a Premiership rugby team firing on all cylinders and how sleep plays a crucial role in his own performance.
Are there any career highlights you would like to share?
"Being a part of the support staff that helped the team win the Premiership title and Amlin European Cup in 2014.
What does an average day at work look like for you, and can you share what a more dramatic day might look like?
"We have a fairly set schedule but the structure of the week revolves around when we play. The day off is typically a Wednesday or a Thursday.
"We front load the week then have a taper towards game day. Our primary lower body strength day happens on a Monday morning after the playing squad has been through a pool recovery session and a screening process with the physios.
"We always encourage the players to consistently get this lift in every week to help maintain the strength levels they worked so hard to achieve in pre-season. Tuesday typically consists of two rugby sessions. The Backs place emphasis on speed work and the Forwards concentrate on their set piece work in the morning. Then we'll move on to a team session in the afternoon.
"All of these sessions are well structured and supported with breakfast, refuelling opportunities during the morning and then a big lunch. Rugby has changed over the years so that there is much more emphasis on our nutritional support than we've ever had in the past. We always encourage the lads to be self-reliant with their recovery work, mobility and individual workouts, whether they are physical or rugby based.
"Every day can be very diverse. High performance sport is a very dynamic environment and every facet should work in an integrated system to bring about the same common objective – consistent excellence. As support staff it is critical that each department – Strength and Conditioning, Medical, Analytical, Nutritional, Technical and Tactical – all collaborate to give the team the best opportunity to perform every week. This is the interplay between the art and science of our work and can be the most challenging and most rewarding part of the job.
"A crucial part of the job, and possibly the most satisfying, is the process of helping an injured player return to fitness after a lengthy period on the sidelines. Professional rugby players want nothing more than to be competing at the highest level and it's great to see them put in the work and gain the rewards of pulling on their team's jersey again."
Could you tell us a little bit more about you as a person?
"I'm very much a family man with a wife and three children (twins and an eldest daughter), and spending quality time with them is my upmost priority. My job does mean working weekends and time away with the team but we try to make the most of our free time.
"I have a real love for training and use this time to unwind and try and keep myself fit and active. We've recently acquired an allotment which is also a great place to get some head space and get the children involved."
How important do you consider rest time and recovery for both the body and mind?
"Recovery is the most critical and misunderstood component of the training process. Too much rest and under training makes it much more likely that you'll suffer injury or poor performance. Likewise, too much training and a lack of recovery leaves you predisposed to injury and underperforming. It is this load management and finding the optimum balance that leads to consistent high performance and resilience.
"I believe that a large mismatch can exist between an athlete's outputs (training stress) and their inputs (sleep, rest, attention to nutrition). We have a tendency to work hard, do more and place high demands on the body and mind, and yet have a disproportionate amount of time spent ensuring we recover optimally.
"We aim to ensure that every player invests the appropriate time and effort into how they best recover, regenerate and get some down time from their work environment and training."
Could you tell us a little about your own sleep routine and how you handle fatigue?
"Although I do not place my body under the same strain as the Saints players I still like to train hard 4 times a week. The general demands of work, family life plus my own training means I do put a big emphasis on sleep quality. I typically average 7-8 hours a week but, as is the norm with young children, that sleep is invariably broken as some stage.
"I see my Mammoth mattress as an important investment in how I feel and perform every day. Without consistent good quality sleep I personally do not cope well and soon feel run down.
Do you have an optimum environment for sleep – e.g. warm and cosy, cool and clean?
Definitely cool and clean. Dark and well ventilated.
How did you find out about Mammoth mattresses and what attracted you to the brand in the first place?
"My former boss, Nick Johnston (formerly the Performance Director at Saints and Worcester Warriors), introduced me to the brand and the range of products. We decided to invest in 20 single mattresses for our sleeping rooms at the club to support recovery during pre-season, so I got to see the impact a Mammoth could have at this point.
"The trial with the mattress proved successful. During breaks between sessions the players would take short power naps and make the most of their down time. Seeing this recover in action got me thinking about how I was taking care of my own recovery at home."
Can you tell us which mattress model you own and what you think of your Mammoth?
"Our Superking Performance SuperSoft 270 mattress is proving to be a great investment. I have a history of lumbar pelvic issues and one of my difficulties has been adopting the best sleeping position. I always avoid sleep on my front and now have a pillow between my knees to help align my pelvis.
"Our sleep quality and duration has definitely increased since making the change and I look forward to getting into bed every night in the knowledge that I will be comfortable and awake without the lumbar pelvic aches and pains I had previously."